NUTTY OATMEAL BARS
Fuel up on the go with a nutrient-rich bar!
These bars make for a power-packed meal. Nuts are a great source of phosphorus—which helps protect tooth enamel—and the fiber-filled oats help keep your heart healthy and strong.
INGREDIENTS
1 cup oats
½ cup chopped almonds
½ cup sunflower seeds
1 tsp. cinnamon
1 tsp. salt
1¼ cups nonfat milk
1 egg
1 tsp. vanilla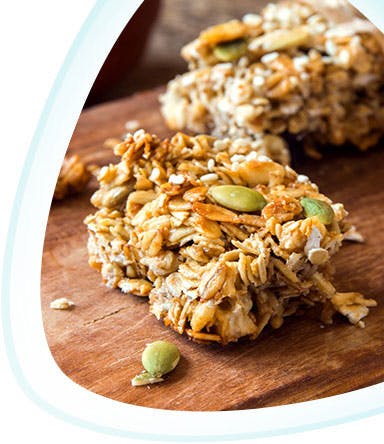 DIRECTIONS
Preheat your oven to 350 degrees. Mix all the dry ingredients together in a medium-sized mixing bowl and all wet ingredients in a separate bowl. Pour the wet ingredients into the bowl filled with dry ingredients and stir them together. Pour the mixture into a coated 9x9 baking dish and bake for 40 minutes. Once they've cooled, cut into 6 squares.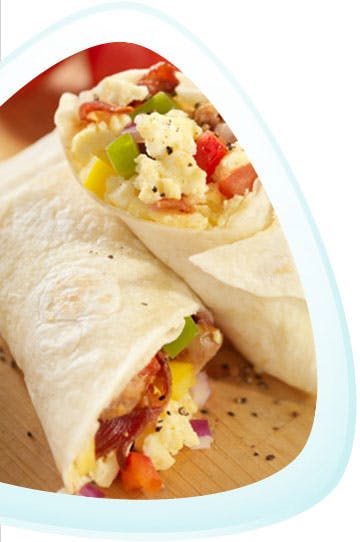 EGG SALSA-RITO
Spice it up with a protein-packed wrap!
This egg and veggie burrito is loaded with protein—a key component in a healthy breakfast. Throw this together for a quick morning meal so you can look and feel strong.
INGREDIENTS
1 large egg
1 tsp. low-fat milk
1 tbsp. frozen corn
1 tbsp. diced green pepper
1 tbsp. minced onion
1 tbsp. diced tomato
Dash of hot sauce
1 8-inch flour tortilla
1 tbsp. salsa
DIRECTIONS
Preheat your oven to 350 degrees. Scramble the egg, milk, corn, green pepper, onion, tomato, and hot sauce in a large bowl. Pour the egg mixture into a baking dish and cover with foil. Bake for approximately 8 minutes or until the egg is thoroughly cooked. Place the egg in a warmed tortilla and top with salsa.