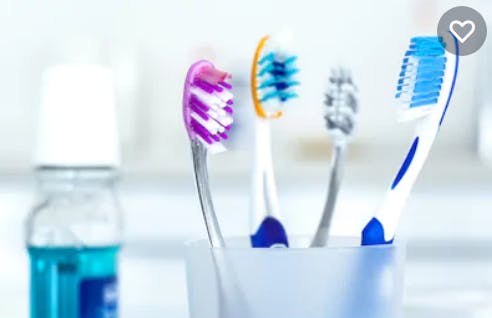 Wash your hands before you brush your teeth and keep your bathroom vanity where you brush your teeth clean.
Don't share your toothbrush with anyone. Sharing your toothbrush can cause an exchange of microorganisms between people.
Rinse your toothbrush thoroughly after each use to get rid of excess paste and any debris from your teeth.
Store your toothbrushes in an upright container and let them air dry. You don't want a moist toothbrush, which can promote microbial growth.
Replace your toothbrush every 3-4 months or sooner if you notice the bristles are getting worn out. (Your brushing may not be as effective if the bristles are worn out.)i
These basic steps to on how to disinfect your toothbrush and keep it clean are ones you probably already follow. You may be interested in taking an extra step to sanitize your toothbrush more completely. It has been proven that toothbrushes harbor bacteria, but there has not been proof that these types of bacteria cause adverse effects.ii Nonetheless, there is a study that has shown ways to greatly reduce the bacteria on your toothbrush.iii In the study, the bacteria was reduced by:
Soaking a toothbrush in three-percent hydrogen peroxide for twenty minutes every three days.iv
Or, soaking your toothbrush in an antibacterial mouthwash for twenty minutes every three days.iv
Make sure you don't mix different sanitizers or use industrial or household cleaning products to sanitize your toothbrush. Stick to these two sanitizing methods above and if in doubt, contact your dentist about any toothbrush hygiene concerns you may have. Make sure to never microwave toothbrushes or put them in the dishwasher, as such high heat may damage the brush.
Now that you know how to clean and sanitize your toothbrush, feel confident you can keep your pearly whites clean! If you want to learn more about tooth health and care, visit our Pronamel resource center to get more information on tooth enamel, how to protect your enamel and how to differentiate between staining and erosion.